Messages

1,612
Reaction score

1,786
Location
USDA Zone

7a
I bought my first display stand this afternoon from an estate sale, and I'll be the first person to say I know nothing about stands at all.
The only thing the people working the sale could tell me is it's rosewood, and that their clients had it for at least 30 years.
Dimensions: 17"W x 10"D x 6.5" T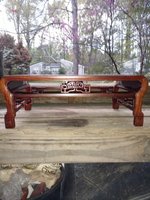 From a little looking around on the internet, I found one exactly like it and the description says: Mid 20th Century Ming Style Chinese Rosewood Tea Tray/Display Stand.
Is that all I really need to know about it?
Since I found another exact one online, does that mean these were pretty mass produced, maybe for the tourist trade?
I read a few posts from people here that seem to know a good amount about stands and or builds them; you guys have any other info?
@Smoke
@artofthedaiza
@kakejiku
@Hartinez
Thanks