This tree was actually a root of my
big pomegranate
when I noticed it couldn't fit in the pot I just cut the root and plant it to see what would happen to it. well it sprouted and it is doing great.
This one was repoted this year (maybe I shouldn't have) but it starting to show signs of growth too.
I would be grateful for any design insights about it
The "cut" shown in the above picture is from a root I removed, I initially had the soil higher to cover it but it went down with my first few watering, I will attend to it next spring I guess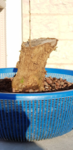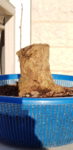 I feel this guy has good potential but not sure how to drive it from here other than "let it grow"
Cheers