Messages

2,602
Reaction score

5,300
Location
USDA Zone

10b
So this is inspired by a similar 3 year project I have going and honestly am surprised by the progress so I figure Ill try another couple of projects and post them here with updates as I go.
The idea being to start with some real young stock and see how far you can get it to look like a bonsai in 3 years. I'm using Eucalyptus mainly because that's what I have laying around and these grow pretty quick which is useful given the time frame. Plus they really don't get much love outside of Australia aside from deglupta so I think it's good to spread the word. They grow quick from seed so if you can't find young stock that's always an option. Seriously go get some and play along too.
Anyway these are really not much right now but should kick on quick enough.
This first one is a seed grown Eucalyptus leptophleba. I have used it as a practice tree for experimenting on before I do anything to another I have so it's been cut, tipped, pinched, defoliated and so forth with no actual design in mind. I nearly lost it this year as it dried out but it just dumped it's leaves and put out all the growth you see now.
It's a species from Cape York in Queensland and that puts it in the tropical range but it takes our winters in it's stride. They grow quite tall and even when full grown only have skinny trunks so it's not likely to beef up too much. There is not much info on these either so everything I know about them is from trial and error.
Plan for now is to pot this up in a grow box and let it run for a year, just waiting on some pumice for my mix and I can do that. Maybe an angle change and try to encourage some more options at some point.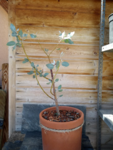 This next one is a Corymbia aparrerinja, or the Ghost Gum. They are a seriously impressive tree with their native range being central Australia so they love dry and harsh conditions. They grow on rocky cliff sides and seemingly anywhere they can get a foothold and can have these impressive melted bases of the tree which look great or they can have above ground roots that look like they are walking. They also have extremely distinctive white, smooth bark.
Again this is a new one for me but lets see.
It has been up-potted and had a tangly few roots sitting on the surface with the root ball in the pot so the rocks are there to keep those elevated mostly and Ill see what to do with them next year when I'll up pot it again into a grow box.
So yeah not much to see but it's a 3 year journey, may add more starters to this if I get some.