Messages

1,628
Reaction score

3,052
Location
USDA Zone

5
This thread is my quercus bicolor...swamp oak.
I've been looking for a larger caliper chinquapin. I have some babies chinquapin in another contest thread, but I wanted something in the 2" trunk range. I haven't found any harvestable ones. I've found a nursery where I can get one, but they're field grown and a 2" trunk is going to be something like a 36" root ball to start. ~800 pounds. Way too big for me to handle!
The local mom-n-pop nursery had a few swamp oak last fall that I thought long and hard about. I really want a chinquapin but maybe swamp oak is similar enough?? I think most people would say swamp oak is "close enough". Anyway, one sold in the fall but there was something about the base of the remaining one that makes me stop and stare every time I visit that nursery! Finally, today, for better or worse, I picked it up.
Yeah, I was "that guy" who bought something too big to fit in the vehicle he was driving. Luckily I had brought along heavy duty pruners!
I probably shouldn't have bought this tree. Sometimes decisions aren't rational...they're emotional. I'm not going to regret it. I should have bought it 2 weeks earlier though...the timing would have been better for the abuse I was about to perform!
Now that I had it home, the goal was to comb out the fringes of the root ball and try and open it up a bit and get it into some better soil. My intention was to tease out the bottom and ends...see what kind of tap root situation I had to deal with...and gather up all the information I could to develop a 5 year plan to get this into a pot
There wasn't any tap root to speak of. There was a dense mat all around the surface and lots of smaller circling roots...but nothing thicker than my pinky anywhere. I was even able to comb out the entire bottom 2 inches or so without thick roots in the way! I spent some time teasing out some of the side roots until I ended up with this:
Which is where I stopped. This was good enough to get it into a 10 gallon grow bag.
Since there was no tap root and no large tangle of root mass to deal with, I probably could have gone ahead and combed out everything and been done with it! I didn't though. By this point it fit nicely into a 10 gallon grow bag. I like the structure to the base as it is so I didn't feel combing out roots to get a better nebari was worth the effort. In two years, I hope to hack the bottom off shorten the root ball to something closer to 4-5"...that will remove most of the circling roots and I can comb out what's left to start taming them to fit into a pot then.
We'll see how much I regret that line of thinking in 2 years
For now, I filled the grow bag with DE (NAPA 8822).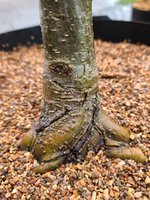 I'm a little concerned about that cracking bark on the back. It stands out a lot more when the trunk is wet. It looks like healthy tissue underneath. I'm hoping for some buds to pop near enough and hopefully above that area to help it heal up. There are a couple of buds that look like they could "turn on" in a couple places now that the top is hacked off...but none as near that area as I would like. I hope I'm not carving out a hollow at some point down the road!
With the tree now in new soil, time to hack again! I cut to about 5' to get the tree in my car and to have a decent handle to help manage the tree while I worked it into better soil. But now...the final cut!
The plan now is to watch it burst forth with tons of new growth! I feel it's a great plan...even if I have very little control over it's execution...