Messages

1,713
Reaction score

2,625
Location
USDA Zone

4b
Well, I won't be attempting to collect these trees this year.
I've missed that window, and that's quite alright. I plan on returning to collect in early spring.
This is a tamarack bog at my father's hobby farm in Luck, WI.
Im hoping that anyone with experience collecting tamarack trees from a bog/wetland, will please share their experiences
I will document my findings, discoveries, and collections here.
So here's the site.
This was a nice time to walk around since the ground was dry & frozen enough to walk cautiously. Still with each step you could sink in to the moss 2" or a foot! Snow shoes would have helped.
The next day it snowed, so I'm happy to have gotten out there prior.
Here are a few of the trees I marked for next spring.
As you can see, lots of lichen and moss hills around the trunks of the trees.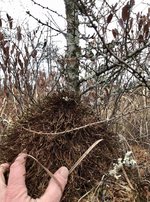 Many more were flagged before I headed back to the farm.
I've heard sphagnum moss and pumice makes a good mix for these, so that's what I plan on using.
Any advice would be greatly appreciated as I plan my dig.