Messages

72
Reaction score

30
Location
USDA Zone

6
Hello again!
Curious about this tree my father has had growing between his house and deck. I think it is an ash tree? Not sure if this species has much potential and I don't know how long it has been growing, but my father has been chopping it down year after year. I think it is possible he accidentally created a good starter for bonsai. Trunk is a little dirty so maybe hard to see but it looks like he has made chopped it three times. It is at least 2" in diameter, maybe close to 2.5".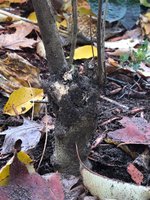 I am having a hard time understanding/visualizing what this new leader will do (or any leader perhaps) in terms of growth. The trunk seems to be growing into the leader which has created a nice little curve in the back. But what will it do in the next year or two? What will it look like? I am talking more in terms of horticulture and basic growth patterns. What are these wounds likely to do? Especially being so close to one another? Is it worth wiring that leader and bending it forward over the trunk (if possible)?
Full disclosure, I did move this tree last week. It was very difficult to get to and was growing in a lot of sand, it came right out and I immediately replanted it. The root structure reminded me of an insect or shrimp, long curvy roots. It's got more curves beneath the soil, probably could be moved up a little bit and have an even more interesting trunk, but I won't touch it again at least until spring. Is it reasonable to think it could be moved into a nursery pot at that point?
-----
On a fun side note, I found this - tamarack? - while I was walking in the park the other day. Only one I have seen around here. It is huge! I assume a tree this old isn't going to air layer very well. I have also had a hard time finding what the law says about collecting things in local parks. I did ask the DNR for a permit to remove things and they never responded, they probably think I'm some kind of nut
Last edited: