Hey look, I made another leaf thread about my maple! Bloody thing...
Apparently it is just never happy!
Anyways, what do people think of this..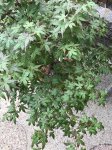 Leaves seemed more hardened off now, not as pale.
It's being fertilised with miracle grow liquid fert, with some seaweed extract, once a week.
It also has some (although mostly worn out now) organic pellet fert.
The discolouration of the leaves is different to previous issues.. some parts of dying leaf are not just at the edges, but spots in middle, very few but still.
All I'm thinking at the moment is fert burn.. but it's also been a bit windy, tried very hard to shield it from that. Also it's in completely inorganic substrate, hence why I fertilise once a week, it runs out pretty quick.