Messages

482
Reaction score

1,052
Location
USDA Zone

6
A local landscape nursery gave me a couple JM volunteers for free last spring. One has really nice, small, rigid leaves, so it's been growing out since then. I wanted to play with the other so I immediately chopped it to the first shoots and cut the downward roots and put it in a training pot. Here it is afterward:
I left it alone for the most part until the following spring, when I repotted it into a smaller pot:
It grew fairly well this past growing season, keeping very small leaves!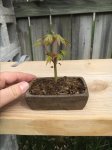 Then... a freakin squirrel knocked it off the bench and broke the pot. Honestly, I was way more upset about the pot because I ordered it from Mirai. It was not cheap. I regret using it for this silly little tree. After I found it on the ground I immediately made a plastic grow pot out of a nursery container and some mesh. The roots were still wired to the bottom of the broken pot, so I just left it attached and slipped it into the plastic pot. I figured it would be like growing it on a tiny tile
My hopes & dreams for this tree are minimal. I just want a fun little tiny maple for my tiny Bokeno pot
Here is the tree today next to the tiny pot. I want to see what is possible for the nebari of the tree. In the spring I might try constructing an even smaller grow box and see how the Ebihara method works on this scale, haha.