Messages

216
Reaction score

234
Location
USDA Zone

6a
I have a couple of 2 year old rainbow eucalyptus that we nice and lush and growing out until I was gone for a few days in the heat of summer. Much of the lower growth died back revealing some branches with ugly loops. About a week or two ago, I decided that when the plants came in, I'd chop off the ugly branches and hope for some back budding. The plants would fit better in the house that way and last year I did get some minimal new branching to occur during the winter. And if they died entirely, that's fine too as I have another more lush tree the same age, and a younger crop of trees and a ton of seed as backup if needed
Since I was going to chop anyway, I thought I may as well try some air layers. If they work, I have some nice tops with better branching. If not, no loss...I was chopping anyway!
I didn't expect the layers to take so I didn't take pictures or note the date or anything...which is too bad. From some pictures I'm pretty sure I took that same night, I'm pretty sure I started the layers on 9/13. So roughly 10 days ago.
Today, out of curiosity, I opened them up to take a look...and one of them has roots on both sides of the layer!
I did break the root tip before I got pictures but hopefully the pictures are good enough to see it as a root. I broke the root off completely before reapplying the sphagnum for the layer.
I've read in a couple of places that horizontal branches tend to layer better than vertical. This second layer I started is on a more vertical section.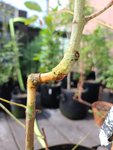 There is some callous and swelling and maybe the hint of some root budding, but maybe not. Definitely not as far along as the branch with the dip.
Both trees are roughly the same size. The branches are the same size. They are in the same grow bag. Sample size = 2, but otherwise about as identical a situation as one is likely to get. I will certainly try to pay more attention to vertical vs horizontal layers and the results in the future to see if these results hold.
What I find interesting is that people always talk about needing lots of growth tips to produce auxin to drive root production when layering. On the "apex" side of the dipped branch there are growth tips and leaves and a source for downward flowing auxins. There are more root tips on that side. But, there are currently no leaves at all on the trunk side of the layer. There aren't even any low branches further down the trunk that could pipe auxins up. The only "up" on the trunk side is about an inch or so of branch before it connects to the trunk.