Messages

574
Reaction score

857
Location
USDA Zone

6a
Starting a thread for this fagus grandifolia, collected March 27, 2021.
Intended to collect hornbeam on this trip (there are thousands on the property), but noticed this beech. I liked the root spread and wary of chopping without branches, this one had 3 branches remaining below where I chopped, giving me hope.
Plenty of roots upon collection. I was able to shallow out the root base as seen below, but only reduced the circumference of the root spread a bit as I was nervous to do too much. Into an Anderson flat.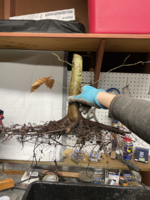 All 3 original branches pushed buds this year, and I got a surprising (to me) amount of back-budding. Notably, as I've seen
@rockm
post about American Beech, at the actual chop site itself.
Overall the reaction to collection was much better than anticipated, plenty of growth and buds that set for next year. Some back budding down the trunk as well.
Here it is last week without leaves. I will be spending the winter on the iPad messing around with virts/designs for the future. I think this is too tall of a trunk for a broom, unless I want a massive tree/canopy, but as mentioned, there are 7-8 buds that popped at the chop site, so a broom is still something I'm going to debate, especially since this is a very straight trunk. I recognize the many years (or never) the chop site would take to heal over.
I will try to post a few other angles - there is limited movement in the trunk regardless of what angle I look at the tree, but there is a little - last photo, right then to the left, and a little taper
Current plan:
Wiring of lowest 'original' branches into more horizontal plane.
Remove terminal buds on these to bring foliage in tighter / consider pruning them back a bit further to help my design brain. I don't want to remove them yet despite two occurring as bar branches across from one another.
Remove "doubled up" buds higher up trunk - a few of the back buds produced dual shoots in the same place, may cut back to just one in these spots.
Retain most / all lower branches to encourage growth down the trunk since it lacks good taper at this time.
Let the chop site buds grow freely all next year.
Future thoughts:
I'll plan to re-assess design during winter 2022-23 after those buds up top have extended. My concern with creating a more traditional informal upright is the chop site healing. Taper is also in my head, and will consider chopping back further to create movement and taper now that I have some buds available to cut back to. I'm planning on a new ground growing area if we ever find a new house (damn this market) and will consider planting this back into the ground if needed.
As always, appreciate all ideas. Regardless of suitability, I plan on keeping this one for a good 30 years to see what I can make of it. American Beech is probably my favorite local/native species, and despite all of the difficulties associated with this tree for bonsai (just got finished reading
@Brian Van Fleet
's thread), I figure I have a few decades to play with it!