Messages

751
Reaction score

1,154
Location
USDA Zone

6b
I collected a lonicera maackii this spring to play around with. They are the dominant species in every greenway/rail trail/canal path in my county. They are an aggressively invasive bush honeysuckle from China that is able to out compete the native groundcover because it begins growing in late February or early March to get an edge. Almost all of the info I come across is about killing them or what sites they won't over run, so not much in the way of bonsai cultivation. Despite a library of Chinese penjing books and subscriptions to many Chinese penjing nursery owners on Youtube, I have never seen the species used. Which is probably a sign that I shouldn't bother, but here I am. From what I've experienced they dont have taproots (or any vertical root growth what so ever) so they can be collected with a pair of loppers in 2 minutes. Just cutting through the horizontal surface roots. Below is a photo of what they all seem to look like upon collection.
So right off the bat (in super limited experience) the good qualities of the species seem to be...
Great nebari always
Terrific root flair
Can be collected 12 months out of the year
Collection or removal is helping the environment
Where ever there is a leaf there is a flower/berry
So far the negatives seem to be
Only bud at nodes like a JM
potential for large internodes, probably because of shady habitat
new growth is hollow and brittle once lignified
Push shoots/buds prolifically from the base, especially when young (to the point that I would only dig mature specimens in the future)
Leaf size is medium but no idea if it will reduce
Jim Doyle told me that the branches take forever to thicken, so it's probably worth it to collect something with that in mind. I have read that they like dryer soil, and that's about what I know as far as bonsai culture goes. The honeysuckle in the photo was collected March 25th, I put it in the smallest pot I could fit it in since my goal is tight internodes for future branching. I realize that this guy is nothing special but I'm experimenting on it before I collect something with nice deadwood. I don't want to waste my time if this is dead end, which it probably is. So far I have bud pinched/shoot selected twice. pruned once (to see what happens) and wired, unwired and rewired the tree. Seems like the first two internodes come out at a usable distance, so I assume I'll be building brnaches one internode at a time. But with 9 months of growing it should go faster than anything else on my bench. So it's definitely a fun experiment for someone with a small collection or busy hands. I can't imagine trying to use this species with a hands off approach. I'm letting the left leader take off and trying to slow the right for a difference in size of the mint trunk. I see an eventual mother-daughter style around 30 to 36 inches tall. Ben or "appalachian bonsai" has a great collected maackii that he posted on every year or so if you want to see a decent looking one. But thats about the extent of what i've seen online. Below is a current photo, about 5 weeks after collection.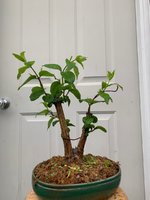 Lastly, please ignore the wiring job, its growing far too quickly right now to bother with tight wiring, I almost killed the apex a few days ago. I'm just loosely directing the soft new growth. If you have tips on the species please let me know. Or if I have have said anything that is flat out wrong, tell me that too.