Messages

409
Reaction score

1,163
Location
USDA Zone

11b
Yes, it is now 9 months (what a coincidence
) of the first tree that I acquired with a view to making it bonsai. It is a lemon cypress, cupressus macrocarpa "gold crest" ( 2.5€), to which I have done all kinds of doggies, and with which I have made many mistakes (the first, buying a toothpick instead of a log) .
Now, looking at it, it seems that it has grown quite a bit .....
In the photos, the first is of the bonsai that a friend gave me a week before (that triggered my bonsai fever), and next to it you can see the cypress.
I have also put a tanuki (a twig that I found in the garden and applied jin liquid), so if you consider it heresy, better not scroll down.
Well, the truth is that I am deciding which is going to be the front (as I put it in a round pot, anyone will do
). Would you tell me the photo number from 1 to 8, which seems more attractive? (Or tell me 0 if you like none)
1
2
3
4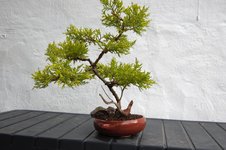 5
6
7
8
Any thoughts welcome, (just don´t be too harsh, I'm a beginner).
Thanks in advance