Messages

2,938
Reaction score

7,905
Location
USDA Zone

11a
Well, folks, here in Brazil summer came with strong and regular 90'sF every day.
So I thought "what about defoliating that mallsai I am trying to save"?
And believe me, in one week it is surely back-budding like crazy!
Plan is to prune and defoliate again in late summer to fill-in the empty spaces and visually lower the tree , but mostly what I am trying to accomplish is to get rid of the leggy branches.
Hard pruning (or chop, if needed) will be postponed till next spring.
Some before/on the date/after defoliation pictures.
Before defoliation
Before defoliation
Before defoliation
After defoliation - Day 1 - Dec. 11th, 2017
After one week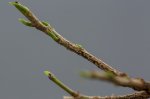 After one week (yesterday)