This one is a work in progress. I just thinned it out, and gave it some wire. It's still coarse, but it's beginning to develop some shape.
Two possible fronts. Which do you prefer?
Oh, by the way, this particular tree appears to backbud easily, so I expect I'll be able to develop dense branching.
Side 1:
Or side 2: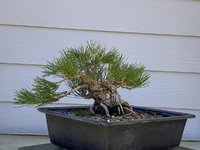 Which do you like better, and why?