Messages

29,384
Reaction score

40,009
Location
USDA Zone

6.2
Bidding to Start at $80 with minimum of $1 increments. Auction will end at 8PM Central Standard Time, Sunday, November 8th, 2020. I will post the end of bidding. The first Highest bid before that post wins.
Free Shipping to United States only. Cannot ship international at this time. PayPal, Venmo, Check Accepted.
I fired my baby gas kiln to Cone 6. I stoked it with scrap wood, mugo prunings, brown Thuja leaves, Juniper wood, and random weeds to assist reduction from 1700F on and add some different vapors.
This thin walled joint was the Kiln Star.
3 1/2 x 3 3/4 average. Just under 4in at the peak. Glazed with my Loclayglaze with Rutile under a Purple/Red glaze over the entirety gave it a nice dirty frosted pink.
Heavy drips of a Copper Glaze down the accent melted perfectly. With some carbon trapping from the woodsmoke, this little gem is unrepeatable.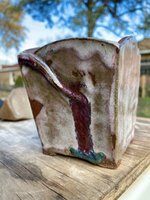 Thanks.
Sorce