Messages

125
Reaction score

126
Location
USDA Zone

6
I just picked up this Girard's Hot Shot Azalea and Purple Gem Rhododendron off the $5 rack at my local Lowe's. I couldn't resist.
The azalea has a thick, interesting trunk, and I'm pretty sure it's two trees.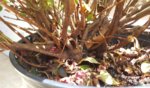 I like the small leaves and papery bark on the rhodo.
Which leads me to my questions. I've read that the best time to prune and repot azalea is after they flower, and that I should remove the dead flowers and the seed pods. I marked up a photo of the foliage to clarify, because I'm having a little trouble understanding what part is what:
Are the parts in the blue circles seed pods? Will the parts in the red rectangles become new flowers, or are those the remains of old ones? Basically do I prune back to the top or bottom arrow in the picture?
Thanks!