Messages

3,419
Reaction score

8,495
Location
USDA Zone

8-9
I finally got a break and had time to do some repotting, so I tackled this cypress today. It was really in need because I should have done it last spring. Here is the victim: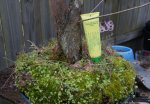 When it was repotted last, it was flush with the container. I grew so much last summer that it pushed itself up three inches above the original soil line.
Many roots escaping the pot into the water container below.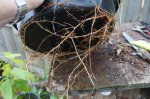 Some will say that keeping a bald cypress submerged in water is a bad idea. It works for me, it doubled in size last summer. I keep all of my cypress submerged April through November.
Oh, and I chopped the left hand trunk to build some taper. Unfortunately the right hand trunk died, it had slowly declined over the past two years, the plans now are to do some carving and make a jin out of it.
John