Messages

22,802
Reaction score

30,476
Location
USDA Zone

6.2
This one is oddly special to me.
You see, there's this little woodsy area behind the H.S. (Morton like the Arboretum) that I always pass. Lot of good looking stumps on the fenceline, I've always wanted to go in.
Well about 3 weeks or so ago, I got the chance. We had a baseball practice there. Interesting narrow woodscape. The Tree year old and I went on a journey through. Some killer old yew inside, that were likely landscape plants this forest grew around. Some oak, ash, and a thicket of old Bucky.
While nothing was collectable at the time, I found this old unpotted nursery boxwood in the dump. With the roots exposed and just to the point of no moisture, it was still a bit green, so I brought it home and reduced some of the heavy top.
It got to budding and growing soon after. I figured today it begins. Some carving to do.
I hope the before and afters make ME like it!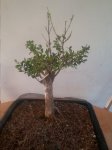 Lean away.
Lean towards.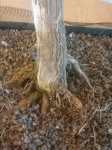 My dreaded one sided Nebari.
More soon.
Sorce