Messages

428
Reaction score

467
Location
This was a 20ft pole but can't pass up the nebari!
Rode about a mile into an estate forest and loaded this on the quad bike to collect it! ?Soil and root mass must have been 40Kg when loaded and 20kg when unloaded! Manged to convince my parents to let me put it in the wild section of their garden as I'm between houses right now! Couldn't pass up a year's growing time on this. It's going to take decades to develop if it survives!
Sealed all cuts with Bayer Heal and Seal tree sealer. Good results with this previously, I'm sure its formulated with some hormones or something secret! Sealed cambium and heart wood, not taking any chances on this drying out or getting borers. Large ~3×5cm root cut was as brave as I could go right now and sealed all cuts on roots over 1cm. Heavy clay soil was washed out. A small number of feeder roots remain. Conservative chop and didn't touch the nebari width. Hoping there are enough roots and sugars to pop some buds. No external buds on this at all. Evidence of epicormic buds and previous branches only.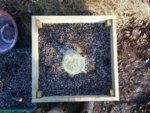 That's >100L of 1:1:1 cat litter/perlite/compost in there. Hoping it will hold water in the summer as I will be away :0/ Too shallow is not an option, can't rely too much on the old folks to get down here and check every day.
Will be planted in open ground in 6 months or so once I get back to UK and get accommdation sorted. Hoping to close on a very small farm here soon!
Back filled and levelled over slow release fertiliser to finish.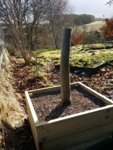 Any frost protection recommended? It is not likely to go below -5oC (23F) for more than a few days here from now until April time. Normal temps are running 3 (37F) to 10oC (50F) right now. Hoping frosts are over but there is still a risk. Feeder roots are approximately 15cm below the surface.
This is a SE aspect but somewhat shaded one side by a hornbeam hedge and the other by 2 x ~6m trees (birch and alder). Still gets full sun 5 hrs per day in the morning.
What does everyone think on all of the above. I should have prepped it in the ground and waited patiently for a year shouldn't I? Ha ha ha ha ???
Any ideas on how long before I will know? Never chopped a guy this hard before! It's a shame I didn't get pictures of the root prune for this thread. My apologies.