Messages

5,712
Reaction score

24,557
Location
Originally purchased from Eric Schrader last year. This birch was started as a cutting about 20 years ago by Eric. Hard to believe given the highly plated and rugged looking bark that has already developed. It was originally sold to me as a Himalayan birch but upon further research and positive ID from a plant diagnostics lab in Utah it was identified as a Betula kotulae, which as I understand it, it is a subspecies of silver birch.
It grew incredibly well in my garden, producing roughly seven strong growth flushes within one growing season. However, in true birch fashion, as fall was nearing it dropped about 10% of its secondary branches. I would say not bad at all for birch. Other more significant branches were cut off to improve its design.
Last spring it was repotted into an old, unsigned Japanese container.
Below is the tree as I received it in November of 2020. I thought it was already a great looking tree!
The tree a few days ago.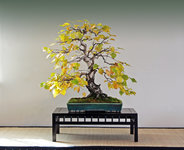 The tree today.