Messages

407
Reaction score

815
Location
I collected this downy birch (betula pubescens) in March from a field. I planted it in a mix of akadama, lava rock, perlite and composted cow manure (sounds weird, I know). It grew extremely well! I'm not planning on pruning it, just removed some suckers and recently also some of the larger leaves, in order to get some light to reach the interior buds.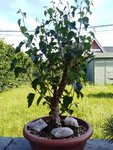 Lovely white bark, decent flare and the first branch is already in place!
Ii'm really happy with the roots! The only downside is that it doesn't have the same root-spread on the backside. But I really can't complain!
Should've chopped it lower though...
New leader: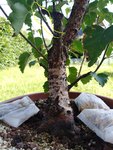 Trunk chop next spring. Should make a good looking shohin!