Messages

3,667
Reaction score

5,771
Location
USDA Zone

7b
Hey nuts,
Today I wanted to start a thread on the mores nigra I've had since april 2015. I'm actually quite pleased with the progression of this tree in just 2 growing seasons.
Here's as I acquired it the 19th of april last year.
Here it is pruned back and repotted into pumice and seramis. (April 22)
The tree seemed to do very well last season and was pruned several times (making lots of cuttings
). Unfortunately I didn't take amother picture all year, except for the autumn shots of course.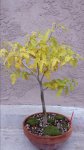 Goodness those are some big leaves lol you'll also tell it was slip potted into a larger pot midsummer of 2015, this baby LOVES growing roots!
Some frost tinged leaves
It was repotted this spring and had its roots pruned very heavily, since I now knew they could handle it. This time is went into straight NAPA 8822 DE. Yet again it had a great growing season, but I can tell it's pot bound again as the water drains very slowly in comparison to the spring.
Apparently when you have several hundred trees, you tend to forget update pics on all of them throughout the year (why I love this forum, I can keep track easier and get help along the way)
I was waiting for fall colors this year, when a very hard freeze came and caused every mulberry in town to dump their leaves. This is all I managed to get
And a week later, it dumped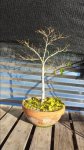 Aaron