Messages

1,371
Reaction score

1,765
Location
Hey all. Yesterday, I popped in to a nursery near where I was working just to have a scout about when I happened upon this Blue Spruce, Picea Pungens Glauca 'Globosa'. It didn't have a price and was looking pretty dishevelled so chanced my arm and the owner said it was priced at £200 but I could have it for £50 just because they'd had it for a couple of years and they wanted it gone. I'd hoped it would be more because then I would be able to say no, but it ended up squeezed in the boot of my car...
I was told that not long after they had gotten it they discovered it had spruce aphids which decimated pretty much all of the interior growth but they had treated it and after a good couple of growing seasons they were confident the aphids were gone. It looks happy and healthy now with many nice, fat buds forming on lovely blue growth.
I know it needs repotting (but is not desperate) and new growth needs chasing back into the interior, but I also would like to select some branches and an image that I will use in the final design, so, what should be my first port of call with regards turning this into suitable bonsai material? Do I select branches to keep and chop the others first to encourage growth where I want it the most? Or do I repot in spring (allow to recover) and work from there when I know what base I'm dealing with? Or do I leave alone to allow for more recovery from the aphids?
This is my biggest purchase to date (physically and financially) so I am keen to do the right thing and I'm in no real hurry with it because around here the opportunities to work on spruce this size are few and far between. Thanks guys.
Before deadwood removal
After deadwood removal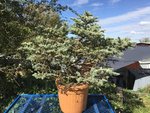 Interior