Messages

249
Reaction score

290
Location
USDA Zone

8
A good friend of mine Dale Brock started this a few years ago and I started doing it as well. You may see our posts on the Book of Faces... great way to spread the art. And you can never hear it enough "I had one of those once..."
These are not necessarily my greatest works. They are either the ones at hand or selected to spark conversation like "I didn't know you could use THOSE..." The general public don't seem to know what a refined show - ready bonsai looks like. They think they are all cool. And people have begin to ask/notice the progress as they come in each season. Inevitably it is good for me because I am staring at these for 3 or 4 days straight so they generally get re-worked as soon as I get them home.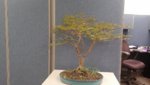 A few of the pics I could find...