Messages

38
Reaction score

60
Location
USDA Zone

6b
This ficus was an Amazon purchase and one of my first bonsai trees. It came chopped with a new apex grafted to the top. These must be mass produced. Not one of my favorite trees, but fun to work on nonetheless. It sits in my window sill during the winter. Tonight I did some carving to continue to hide the remnants of the stump the top was grafted to. I found a really neat rock earlier this week and next spring I plan to try to plant this over the rock.
Would love your feedback on this literati Juniper. I potted is this spring and it's one of my favorites. The branch growing just under half way up the trunk I plan to grow out longer and larger so that eventually I will turn it to a Jin. It is interesting because it circles around from behind the trunk to the left and then forward towards the viewer. It probably won't be thick enough for a Jin for another 5-10 years, but that's the plan.
This is an oak tree I pulled from my back yard about three years ago. The new lead is growing nicely. In the next couple of years I plan to cut away the remnants of my last chop so that it can heal into the new lead. In the long term I envision a larger pot and hopefully a fuller canopy of smaller leaves. The roots on this one need a lot of work, as what came out of the ground did not give me a lot to work with right away. I'm hoping the course soil and future repots will help build a root ball and in turn reward me with a canopy.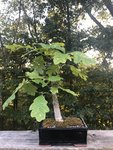 My trident maple is loving the new pot it received this spring. This one was getting some brown tips, and after reading a lot and hearing it's because of too little water or because of too much water (a lot of conflicting messages online), I've leaned towards thinking I've been under-watering. I moved from watering from a can to using my new watering setup also shown below, and that has helped a lot.
I wired and trimmed this Parsoni Juniper in August. I took quite a bit off the right hand side and began to stack that side up along the trunk (hoping the future will show that). I'm hoping I didn't take too much off as we head into the colder season. I am seeing some back budding, but I hope I didn't do anything too drastic too late in the year. In any case, I spent a lot of time wiring this one and it is the first time I've wired this much. I still need a lot of work on my wiring abilities, but I really got into a groove and enjoyed it. My plan is to let this one grow for a few years and see what it gives me. I'll probably just keep the apex in check as that top sure likes to grow up. Thoughts?
I'll post a follow-up with some shots of my deck/garden.