This thread is for pictures of yamadori that did not make it into the boat. You "caught" them, but thought they would be better off staying were they were for whatever reason.
This one was "caught" in Greer, Arizona. I think it is a Bristle cone pine wedged into a large mass of lava rock.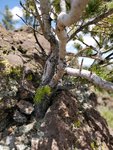 Please show us your catch and release yamadori.