Messages

39
Reaction score

27
Location
In the spring of 2020 I dug up a few celtis australis trees that grew on an abandoned lot near my house. There were hundreds of seedlings left untouched for about 10 years under the parent tree, an 90 year old huge tree. Although the leaves are not so pretty (the tree is also called nettle tree), the trunks were nice and the species can create nice fine ramification and can reduce the leaf size so I saved a few before the construction crew came to the lot to start a new building there.
Last year I fertilised heavily and selected just one shoot to let grow tall. I also created a plan for the prebonsai trees. The fused trunks has by far the most potential.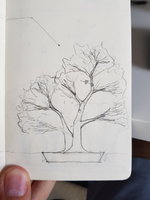 The trees survived the winter and came into leaf, but after a few weeks in spring some leaves started to curl. This happened to all of my celtis australis. Here is a picture of some affected leaves. About 30% of the leaves have this problem on them.
Does anyone know what caused this problem? Is it fungi? Is it disease? Last year I did'nt have any problems with the species.
Thank you in advandce!
Teo