Messages

8
Reaction score

1
Location
USDA Zone

8/9
Hello all. Short time lurker, first time poster.
Was gifted a Chinese Elm for my birthday last September and somehow managed to get it through winter. Chuffed with myself I decided to repot at the start of this month as the old soil was regular compost. Repotting seemed to go well, nothing died, no leaves fell. Photo below is the day of said repot.
The last couple of days I have noticed something worrying with some of the leaves. They have gone pale, almost white and eventually drop off. It has 22C shade until about 3pm where the full sun comes around and is currently at 33C. From what I have read those temps should be perfectly fine. I water every other day at the moment.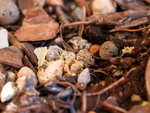 I'm thinking maybe lack of nutrients as I have only given it a small amount of organic slow release fert 3 weeks ago and nothing else. I was planning on giving it water soluble balanced feed weekly starting tomorrow.
Any helpful advice would be greatly appreciated.