Messages

616
Reaction score

1,179
Location
USDA Zone

8b
I want to start a root-over-rock project next year. I have some 2-year-old japanese maple seedlings that I want to use for it.
Now I've gathered 3 rocks of the same size over the last couple of months. Not sure which one is best suited for a root-over-rock planting.
What do you think?
The rocks: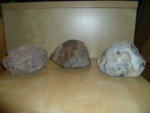 Rock 1, some sort of lava-ish clump:
Rock 2, a rock:
Rock 3, from the south coast of England (Seven Sisters Cliffs):
Or should I put a tree on all three of them and hope 1 works out?