Messages

5,441
Reaction score

22,236
Location
Today I worked on closing a large wound on a kifu size trident maple that I have posted here before. I wanted to tackle this earlier last year but did not get to it so I decided to get ahead and do it now before spring is upon us. I suspect it was a big cut made to create the taper and the resulting wound was treated and handled rather poorly. And yes this was done back in Japan not here. As a result, the area rotted and the tree was unable to callus over. Below I am outlining a step by step process of handling large rotted wounds on your trees. At least the way I approach it.
This is the tree.
The wood was rotted and not only did the cambial layer failed to roll over as a result, but strangely it formed a bizarre "lip" growing upwards that was very unsightly. The wound is located at the back of the tree but it needed to be addressed ASAP. One challenge was getting to the wound and had to cut back a couple of branches in order to do so.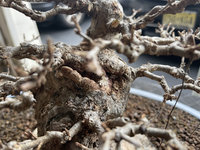 I cut away the strange "lip" and with the aid of a dremel and cleaned out the soft rotted parts until I reached solid wood.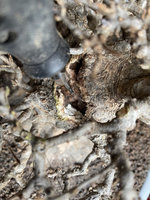 With a can of compressed air, I cleaned the area of sawdust and debris.
The wound after being cleaned. It's quite large and deep!
It is customary in Japan to use concrete to fill large wounds. However, two-part epoxy found at any home center works great! This is the brand I use but probably others work just as well.
Mixing the two-part epoxy.
Now the large wound is completely filled and the epoxy is carefully shaped to follow the contour of the trunk line.