Messages

1,630
Reaction score

1,837
Location
USDA Zone

7a
Here's an Amur maple clump air layer I potted up 8/3/17. It's been repotted once since then, but it definitely needs it again this season. It hasn't ever really been that vigorous for me, which is surprising since it's an amur, but the soil was probably crap from the beginning... Hopefully by repotting it into better soil, it will gain more vigor; my other amurs seem to never stop growing.
Feel free to critique or offer any suggestions for direction or pruning.
I'm planning on repotting pretty soon, and am going to start selecting the direction for the main "trunks" but am unsure if I want more ascending trunks or continue with their outward splaying habit. I have some thoughts but would like some feedback, or anything else you all see that I don't.
Potted in a squat 5 gal. pot, probably around 4.5-5 feet tall.
As separated from tree and sphagnum cleaned out:
Today:
And what I'm calling the back right now: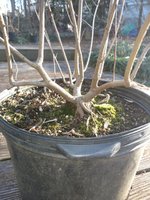 As amurs are pretty coarse trees, they seem to be better in larger sizes in my opinion. The way mine is set up, it seems it will be too small for the coarseness of these trees. Could I pull off a believable smaller clump, say under 15 inches, I'm not so sure?
Or let everything thicken up to better proportions, but possibly lose the clump?
Maybe I should continue to grow the trunks outward and not up yet, to allow for more space between trunks once they are thicker.
Last edited: