Messages

33
Reaction score

25
Location
USDA Zone

9b
I just dug this up last week. it started as a seed from a tree two houses down about 10 years ago. It was growing to close to my front porch so I cut it back 5 years ago getting read to remove it. Forgot about it and then it started getting to big again and cut it back once more. This was way before i even considered trying to pursue Bonsai.
Now it feels like I hit the jack pot. Its about 4 feet tall with about a 9-10 inch burl. I transferred it to a bag and trimmed a back a bit. Now its sitting in the shade getting its time to recover. It grows like a weed. In a month or so when I see that it is stronger I will move it back to the spot its been and cut back again next year. I have it in a good home made mix of organic soil. Staying with what i know on this one while its training to the pot. Its a beautiful tree I want to take my time with this one. I have another that started about 6 years ago now in a pot and 2 and a half feet tall.
This is right after getting out of the ground...
The root ball before I cleared away the original soil and rinsed the roots...
The burl of the tree before I cover most of it on the soil...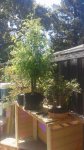 The tree in its bag.. If you look to the top right of this picture you can see the Parent tree.