Messages

2
Reaction score

1
Location
USDA Zone

6b
Hey guys, I just want to share that I collected this Pinus strobus, Eastern White Pine sapling with needles half the original length of the pine needles.
It started out as a seedling in leaf mold but in it's third or fourth year the roots ended up hitting the heavy clay soil underneath the leaf mold. The sapling was growing in an open area near my home and I figured, since the previous years needles were half length, I should collect it. I think what caused the needles to reduce in size was because the roots hit clay soil.
Has anyone ever had the same experience with this species? Im assuming the clay soil, mostly dominated by grass and bacterial microbia sort of contributed to the needle reduction. I believe Pinus strobus prefers sandy, or limestone open areas compared to heavy clay, or at least where I am in Ontario.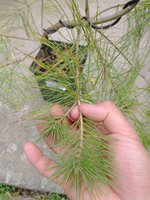 Last edited: