Messages

20,916
Reaction score

28,146
Location
USDA Zone

6.2
I saw Peter Tea do this with a trident.
Having some concrete left over from my pot project, I decided why not.
Heres the hole. This is part of my OG Benjamin. Sentimental practice material, emphasis on the mental. It's In a pot poured haphazardly of hydraulic cement.
There's the taper Im trying to preserve.
Here's my little bag'o'doo!
If it was in blue plastic it would look more like dog doo. Does every state have those Blue Bags? Or is it just here?
There I left it to harden while I posted the F judge! Oops, lil more water and I cut the side of the bag and squeezed it in the hole like a pastry chef.
A little clean up with a wet qtip.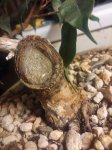 And that's it. When it sets, Ill update with an edge cutting!
I know this is soooo suspenseful, you must be right on the edge of your seat!
The takeaway.....
I'm doing this at 5:30AM. Before work. On a whole pot of coffee since 2AM.
I'm noticing more and more that in order to have good trees you must DO.
Like Tree Barta says.
"Do the work"
Sorce