Hello,
Well here is an unusual tree (in my limited experience). Called a Twisted Hazelnut in layman's terms.
I was looking for some potential in material at a garden centre and this really struck me. Bearing in mind, I have little confidence in my ability to spot potential because I simply haven't got the experience, but this "struck" me. So, I did what anyone would.... I wimped out and messaged Sorce and asked what he thought...
. He seemed very happy with it, which backed my opinion, so I got it.
Here it is: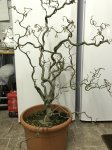 This is the potential front of the tree that I was thinking of, shows its nice curves. However, I believe the tree could be layered a few times at different points so that potential front doesn't mean much at this point.
This is a link to all pics, if easier to view. It also has 3 other pics of the branches close up, and the cracked branches, which I would guess naturally happens due to the curving.
http://imgur.com/a/EcVk6
The green around it is moss of some sort, maybe sphagnum(?). Im interested to see if there is anymore flare to be got from the base when dug down a bit. I can feel under that moss near the base, that some thick stems had been cut off so its been around a while.
I have some thoughts on what I could maybe do, and I will do a little virt to see what it is like and see what you guys think. But, I'd like to know peoples thoughts please.
I think its got a nice bit of movement and scars from large cuts made (2) have nearly completely healed. It has a good thickness, not too much or too little, but lacks taper I think.
The multiple large branches coming out of the top of it seem to be a problem, and I would guess any major work done, would see removing that entire head.
P.S. It grows those twisted branches naturally (name is a giveaway), so I was thinking this could either be a terrible idea for bonsai or perhaps.... a very cool one? Imagining that kind of natural movement in smaller, better positioned, tapering branches, sounds really cool... in my head!