Messages

398
Reaction score

540
Location
USDA Zone

10a
Wanted to document this bougainvillea. It had some interesting twists and deep red flowers so I bought it from my neighbor for like 20 bucks last year. I let it grow to gain some strength before repotting.
April 9th: Earlier this year when I pulled it out of the pot, I found out it was deeply buried with some feeder roots.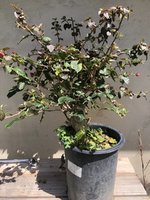 There was a deep cleft in between two thick tap roots. If i removed these, there will be no more roots. Period. So I put a rock in between the cleft hoping it would look like a root over rock. But mainly, I wanted to keep all the roots. The second image is immediately after repotting. I it in shade.
I didn't know if the tree was going to survive. I believe because I kept all the feeder roots coming of the two tap roots, the tree survived. Here it is today.
June, 26th