Messages

20
Reaction score

2
Location
USDA Zone

5b
Hello Bonsai Enthusiasts,
My Natal plum Bonsai went without water in a south facing window for about 5 days to a week. When I got to the little guy, the leaves were still green but shriveled & brittle to the touch.
I plucked off a bunch of the leaves that were bone-dry and left the ones that... had give to them... in other words the leaves wouldn't snap when bent.
Then I watered it in shade and let the bottom really soak in water for an hour.
I took it out of direct sun and left it in the shade for a few days. Been misting the leaves and watering it every other day and it has been a week.
Today I put it back in the south facing window, because it was cloudy and snowing today with breaks of sun. I'm wondering if I should keep it in shade a while longer.
There is still green wood and I've seen new growth in the past on the trunk too. I'm hoping that this coming spring will let it fill out more.
My questions:
Is there anything I can do to make it recover faster?
Should I keep it out of the south facing window for a while?
The leaves are still brittle, but they are green. I'm wondering if I should pluck them all off and let it grow new leaves? I know you can do this for many bonsai to make ramifications to the branches. Is it too early in the year to do this?
If there's anyone out there that has experience with this type of tree?
All knowledgeable information and advice is appreciated.
Before dehydration:
After Dehydration & Pruning: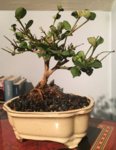 Last edited: