Messages

380
Reaction score

729
Location
USDA Zone

8b
Just finished reducing the new needles on this tree. And planning future work. The tree was potted up 5 years ago, from ground growing in a mixture of organic potting soil with Lava. After first work in 2015, the container was cut down beliw soil level, so the tree was potted on in a slightly bigger pot. spaces were filled with Akadama and pumice.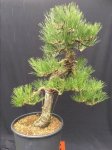 I want to get it out of the plastic container, in good soil in a growbox.
It needs a graft to fill a gap on the right side under the apex.
I'm keeping the unnecessary branch, first branch on the right side, for now to provide for scions. I want to graft an extra branche instead of growing out a back branche to the right to fill in.
I want the attachment of the branch to be visible.
Feel so sorry that repotting and grafting don't combine. Would speedup development.
Btw, it seems to me that the bark is breaking up in smaller pieces. Has that got to do with age, or with growing in a pot?
Any suggestions are welcome.