Messages

30,931
Reaction score

42,578
Location
USDA Zone

6.2
I was getting my "bonsai hours" in this morning.
Frozen means no watering means some looks and such.
Figured these would photograph a bit better in the outside light.
Wasn't expecting to find what I found and be compelled to start their threads......
Start Proper documentation with this.
Cuz I hate not knowing where they came from.
A crap phone daylight pic of this one...
Which has a decent flare, yet needs to lose a branch on both sides...
But they remain for health and options now. I removed everything that will most bulge the knuckle.
Long straight root that curves where it ends. Tell of the previous smaller pot.
Grey dirt and perlite is jammed around the outer, which was bone dry after I watered it yesterday.
Some pros and cons to that.
But here's the exciting part.....
Definitely a better shot in daylight....
But look closer!
No time like the present! Make those "bonsai hours" count!
What!
I didn't even see all that yesterday!
FVG's , put em on!
How is that swoop across the top of that spread not going to be Friggin awesome?!
I kept a bud on that large removed branch, and intend to grow a branch to make a nice fatter jin out of, with movement to compliment the swoop...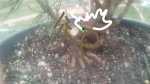 Eventually, I hope to have that "mooseantler" all dead, with the jin, accent the swoop with some DW, keep the image in tight.
I sealed all the cuts with loctite G02 glue. A first on Mugo. So far so good.
This is a good example of how I like to "let nature" do the trunkline, and create a tree around it.
I'm not talking straight trunks!
I couldn't have produced this start better than Ma Nature.
Feel free to draw up some virts!
Please!
Sorce