Messages

55
Reaction score

22
Location
Tree species : https://en.wikipedia.org/wiki/Ficus_racemosa
Air-Layering started on :
Jan 25, 2016
Having read & seen lot of air-layering examples online in late 2015, I was wondering if double air layering on same trunk was possible, out of curiosity. Though some said it is possible, I could not find any pics / videos of it online. That was the motivation to try this & post online. I had only one collected specimen (middle one) of this species & I loved the light colored trunk of this tree.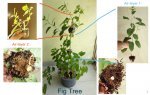 Since there were lot of sacrifice branches within 6 months from the time of collecting, I decided to try my first ever air layer on this. If it worked out fine, then the plan was to proceed to the 2nd air layer on the same trunk. Luckily it had a happy ending. This story is more about the thrill of doing & learning something new than choosing a good specimen to air layer. I had to begin somewhere
This is how the plant looked in Dec 2015. Cutting the container into 2 halves makes it easier to remove later, after rooting. Holes melted in with a soldering gun.
Peeled the trunk, attached the container & filled with cocpeat. I don't believe in making it air-tight. Air is very much needed for the rooting process and to prevent mold growth, in my climate. I learn't about using colanders much later only & that is the best container in my opinion, for air layering, not plastic wrap. The latter is fine if the parent tree is not in your possession.
Last edited: