The last tree I got potted today was
Quercus robur,
the
English Oak
. I am new to all of this, so don't take this thread as advice (unless it isn't coming from me).
It was propagated from seed last year. I bought it in a one-gallon pot with 80% pine bark. It was the only one at the nursery.
​
My goal for this tree is to thicken the trunk and develop the roots by repotting it in a larger, 5-gallon Rootmaker container with a more air-retentive soil. I realize I could plant it in the ground for maximum thickening, but I simply don't want to.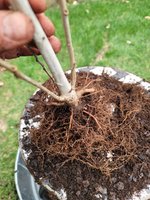 Radial root pattern.



These were the the most difficult roots I teased today. Just very tough.



From below.


​
I'm using a kitchen-sink blend as a substrate. I ultimately need 50+gallons of substrate to up-pot
my newly acquired trees
, so using up as much of the material I have recently purchased for my soil tests was beneficial. It's equal parts Sifted Pine Bark, Grit, Turface & Diatomaceous Earth (2-5mm) with a dash of Sphagnum Peat Fines. I tested the soil's mechanical properties at 29% Saturated Porosity (air-filled space), and 25% Field Capacity (water-filled space) after draining. Hopefully it will work, because conventional substrates are difficult to find. I added the fines back into the mix after sifting the
I am divided on whether to let it grow naturally or to do some trimming. There are four branches coming out near the base that will help thicken the trunk. Another group of branches above it, one of which will probably become a new leader. When I trim, I would want to either air-layer or make a cutting.
I will be posting separate threads for my other species as I get them in pots this weekend. (five more to go).