Messages

4,037
Reaction score

5,473
USDA Zone

6b
Yes this is the nebari from hell. I lost its sister from overworking it in 2019
had been in ground ~ 10 yrs on a tile.
This one just always had that ugly appeal to it, and has been in a pot most of its life.
Here in 2008 it was in the ground, but whether in a pot for the Winter I don't recall.
I had drawn on here to get some guidance via email + tele support with John Romano at the time.
a bit of difference in the bark over time...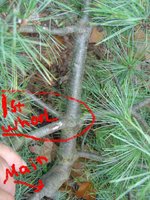 ...this was the trunk in '08
Then this is it going into today.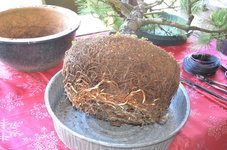 Ok so it's a mica pot, 17.5" mica pot at that, but it's the 1st bonsai pot it has ever been in.
Not going into a rain n wane
@sorce
but if I wait till the end of the month for the wane, I will have missed
the opportunity yet another year to do this.
Last edited: