Messages

4,554
Reaction score

2,577
Location
USDA Zone

7A
Hey all.
I went to my local nursery today and saw a beautiful Ficus benjamina with a graceful, curving trunk with great taper. However the tree was 5 feet tall, and had no growth in the first 3 feet. So the only option I had was to chop the tree. Reading up online I was afraid to see that benjamina does not backbud well, at all, and when it does, it is random. So I took my fears to a good friend who works at the nursery. I told her what I wanted to do and how scared I was of doing it. She understood and took me to where they had 2 sick/new Ficus benjamina. She told me she could sell them to me for $10 each. I looked at the price tag on them and it said $60 a piece.
So long story short, I got a helluva good deal for 2 trees to experiment on. I have the trees in a greenhouse I set up next to a bay window. They were a bit too tall, so I cut some branches back, but they were still too tall for the greenhouse. I simply shoved them in there and figured no harm could be done
Inside of the greenhouse I have placed a warm air humidifier. I set up a thermometer in the greenhouse and it read 92 F (33 C). Is that too warm? It is very, very humid.
Here are the pictures:
Tree #1: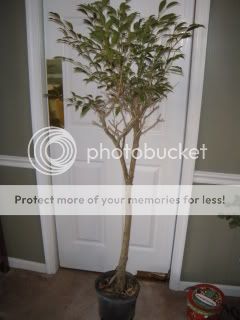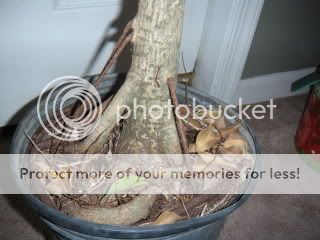 Tree #2:
And the greenhouse:
Don't mind the light, it's temporary until I can find some other way of hanging a light above the greenhouse. I can't put the light inside the tank, as there is far too much humidity. It is crazy in there.