Messages

7
Reaction score

5
Location
USDA Zone

5
This is my first post on this forum, and I'm pretty new to the bonsai game. I got a tree today that I could use some advice on. It's a ficus (not sure what one), with a lot of deadwood on it. From what I understand, the deadwood has been untreated for a couple years and it still pretty solid from what I can tell. I plan to clean it up and treat it with lime sulfur to try to preserve it the best that I can.
After the stress of being in a box for a few days, I need to repot it into a different container and get different soil (it appears to be regular potting soil).
My big question is on what you would do for styling. I get that it's "my tree", but am certainly open to some ideas. I'm not 100% on what I want the front to be either.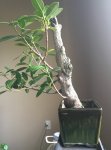 I'd love to hear some advice on what you'd do with the deadwood as well.
Thank you in advance!