Messages

1,008
Reaction score

1,055
Location
Okay so after stealing the lazy Susan out the pantry enough times, my wife finally agreed to let me make a proper bonsai turntable. Partly because I told her she could use it when repotting her rare plants
I remember
@Bonsai Nut
saying he spends $50 for chairs..... So after hours checking and searching I finally was able to secure a barber chair for just that amount. Only had to drive about 40 minutes 1 way to get it.
A quick trip to the depot, and it was time to get started!
First of all, and you experienced guys probably know this, but... holding the torch like this doesn't really work. That great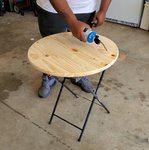 After realizing this and coming up with something else, NOW.... it's time to get started
Oh yeah, burn baby burn
Sooooooo after burning, It was looking really good. I was digging it.
the next step was to brush the soot and char off, and sand.... i probably should've just stopped at this step, but hey... live and learn right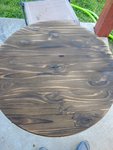 So I wanted something that looked a little more "Japanese ", I apologized if thats not politically correct, but hey that's what I was thinking. So I went ahead and dropped a little stain on it.
Next thing was to mount it to the base. Not quite easy peasy, this will probably rip off the base, but until I figure out a better way to anchor it to the base this will have to do, just remember not to pick the table up, by the table top
And I can't remember who posted it, but someone gave a heads up about the babrber chairs not being level, and recommend using composite shims. They worked great. Still not quite 100% level, but close enough for this first go at it.
Now I'm still not finish, I think I will sand the top once again, and try to bring out some of those highlights that got covered with the rush job of stain and poly.
So now my question is, how do you guys store these things? In the garage? Outside all year round? Cover with a barbecue grill cover?