Winter has just started here in Scotland and I'm finding myself itching to start the projects I've set aside for spring, but I can't, so I'm using my time planning and making virtuals. Here's one of those projects.
I bought this top-worked, mini standard patio Malus for very cheap, after it made its way into Scotland from Holland, having originally been produced in Spain. The scion cultivar was listed simply as Malus domestica
enano
(=dwarf in Spanish). It is maybe about 4 ft tall.
Now, the main reason I bought it is the knobbly top part of the trunk, which I'm planning to layer using the radiallayer method shown by
@sorce
. I'm actually feeling greedy and will try to use part of the bottom right branch to create a larger base for the new tree; if it works the base will spread about 4 inches. Before I layer I will temporarily plant the tree at an angle, to make the base of the layer parallel to the ground.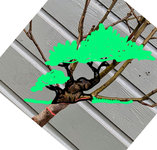 So this is what I have in mind for now. I will probably end up using the actual base of the tree for something else too, so I should get at least two trees out of this £8.99 purchase
might not end up well, but surely good practice.
By the way, Happy New Year to you all
-ThornBc
Last edited: