Messages

3
Reaction score

1
Location
Hi all!
I'm new to the forum, but I haven't found any "Introduce yourself" thread, so I'm just posting my first one here.
I just have one bonsai at the moment, and it's a juniper. I've been working on it for about a year now, and I wanted to show you what I've done so far and ask for some pointers for the future.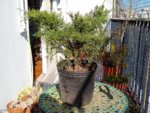 1. This is what I started from, which I bought at a local nursery in August last year.
2. I started working on it at a bonsai school in my city, and I came up with this a couple of months after buying the original plant. I repotted, started creating an incipient jin, chose the main branches and wired it for general shape.
3. This is the current state. I already wired twice during the last ten months and did some superficial trimming every two months or so. I used osmocote as a fertilizer (once in spring and once in summer), and the soil is 50% compost 50% gravel.
Winter is coming in about two weeks (I live in Argentina), and I'm thinking two main possible paths for the upcoming year:
Option A: I'm thinking maybe the trunk is too thin and I made a mistake by starting the work so soon, so maybe I should repot it to a bigger pot and let it grow for at least one full year.
Option B: Wire the branch to emphasize its natural almost Z-shape in mid-June; repot to a proper bonsai pot and do some heavy trimming in August to bring it back to a compact tree and give it some clearer shape (aiming for a moyogi style with defined tops, but in the size of picture 2).
What do guys think?
Thanks a lot for your feedback! I'm thrilled to have found this forum