Messages

79
Reaction score

25
Location
USDA Zone

6b
I bought a $9 juniper horizonatalis at Lowes last week to prune, wire and style for the first time.
Now I know I'm supposed to either prune it/leave it in its container OR repot 1/3 with bonsai soil and leave it's original soil until next season etc/leave the styling until next season to give it time to recover…but…I didn't want to.
I wanted the experience and practice since all I've done is watched probably a 100 hours of videos but I haven't had a chance to actually DO it myself. I acquired all the tools, wire, soil mix and wanted to get at least ONE plant looking like a tree rather than a shrub. So I know not to be shocked if it dies from doing too much all at once.
It had a LOT more roots than I thought it would have. I expected half of it so be dirt. So I ended up cutting the bottom 1/3rd off, leaving most of the soil intact and then exposing the trunk line. Though it really seemed like there was more roots than dirt. I really didn't throw that much dirt out even though the photo makes them seem pretty bare. It's probably in too small of a container but it's all I ha
Watching so many pros style and wire made it look so simple. Once I got in there though and trying to remember all the rules made me really appreciate all you long timers work you put into your trees.
So this is the first styling. I know it might not pull through, I did try to leave as much foliage as I could while still giving it some shape. The front branch blocks the trunk line a lot but I thought I'd let it grow before doing anything with it.
This is the front I chose.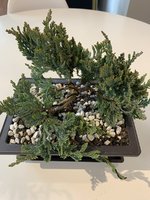 Here is the base. Decent taper? Soil is pumice / black lava rock / calcined clay / fir bark
This is the back side.