Messages

4,581
Reaction score

5,303
Location
USDA Zone

Hot
So here are some (currently) shito just for fun trees. Post'em if you got em! If not, try some! They are fun!
First up a Texas Ebony in a round pot (sorry slightly off center) unknown maker. First as it was in a 3" pot,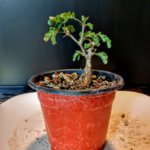 then as I potted it
and finally as it is now. I am wanting to do a South African style. as it sits now it's 1 3/8" tall and 3/8" caliper. However there is a nice swelling buried that would give an extra 1/4" (at least) caliper. I have nicked the trunk and added rooting hormone in the hopes that I get roots. I left stubs at the chop points to accommodate for die back they will be removed later.