Messages

37
Reaction score

143
Location
USDA Zone

9
Hey everyone,
I thought I'd document a garden centre juniper I've been working on for a couple of years. I picked it up in 2019 and did a pretty poor initial styling. Have tweaked it a bit since then, and yesterday did a restyling that is going in a direction I'm happy with.
The apex still needs some work, but I'll let it fill out before looking at that.
I will let it recover for the rest of this year, and then work on developing the pads. I want to let the lower branches on the right extend while keeping the upper ones in check so I get a more triangular silhouette. I will probably at some point bring the whole upper section down and in towards the main trunk and plant at a more slanted angle.
Advice & criticism very welcome!
Marc.
As purchased in May 2019, and initial styling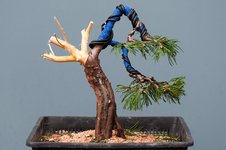 The top branch died off, so restyled and deadwood added in May 2020
I let it grow the rest of 2020 and repotted it at a different angle at the start of this year. This was as of 13 July 2021.
And after the restyle yesterday...